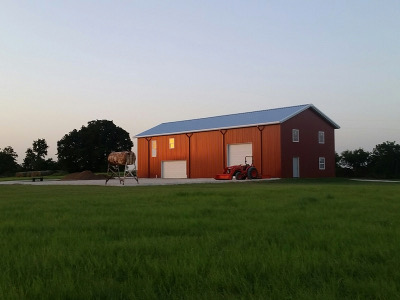 Every once in a while it's not uncommon for some of our clients to ask "Can I do some of the work myself?" and Curtiss and Sarah Ryan were one such client. Our OBN Consultant's response to them was "Absolutely! You can do as much of the work as you want to do on your project! After all, you only have yourself to please." So the two went to work as they utilized family favors and friends with specific skills and with Curtiss and Sarah filling in the gaps.
Curtiss did a majority of the work himself, he was very keen on building "sweat" equity into his project. The two even working in their Texan pride onto their propane tank outside. Curtiss and Sarah did a great job – WE ARE VERY PROUD OF THEM! They are very pleased with how it all turned out and with the amazing equity they had upon completion of the project. We at Owner Builder Network allow our clients to have the flexibility of doing some work themselves.
We have some amazing clients, and we are always happy to help them reach their goals. OBN is always keen to help you build your house with many options to how it gets done.
If you would like to see the Ryan home and see the great work they put into it simply look here.